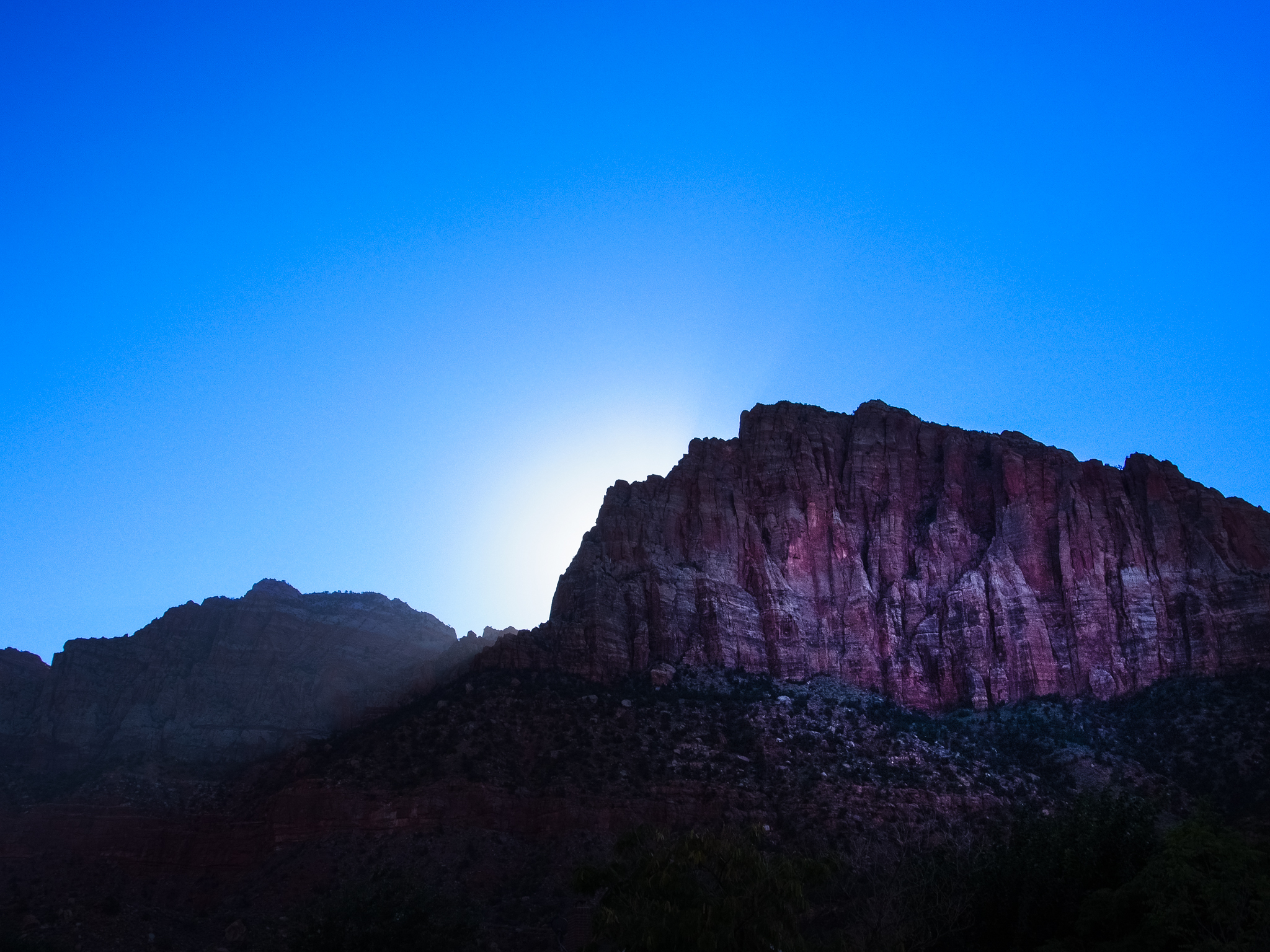 The latest ArchiTalks post idea was to write about our favorite place. That could be taken so many ways. Favorite architectural place? Favorite place for a certain activity/non-activity? A favorite place that I've only been to once? Maybe it's my favorite place I've been to many times because I like it so much... I guess I'll have to pick one because I have all of these types of places zipping through my brain right now. Decisions, decisions.
If you're wondering what ArchiTalks is, you can read my previous posts in the series here. Basically there is a monthly subject that's given to a group of architects who all talk online, and it's a way for each to write about their interpretation of a very open-ended subject. It's one of Bob Borson's brain-children (the guy who started the Life of an Architect website), and it's really fun to read the different points-of-view that everyone comes up with. Architects are also normal people who have real lives too; we're not busy saving the world all the time.
The ArchiTalks rules are that no one can share their stories ahead of time with each other, and we all post them at the same time to get as wide-spread points-of-view as possible. Everyone seems to interpret the idea differently, and that's a good thing. At the end of my post there is a list of others who have participated in this round of ArchiTalks so be sure to check out their favorite places too.
Here we go... time to choose. In my 'About' page right here on my website I say that I'm happiest either in my workshop or outdoors. If I had to choose between the two I'd have to say that I'm absolutely the happiest when I'm outside experiencing a masterful work by Mother Nature. Just in the last year I've been to many National Parks here in the western United States including Death Valley, Denali, Grand Tetons, Yellowstone, Bryce Canyon, Sequoia, King's Canyon, Grand Canyon, Mesa Verde, Yosemite, and just last weekend I was in Joshua Tree doing some climbing. For this post I'm going to have to pick my absolute favorite. There's no contest... it's Zion National Park.
I'll try to explain why it's my favorite place here. Easy, right? It's actually harder than it sounds. It's actually a difficult thing to put into words. I'm guessing my architect counter-parts participating in this series are having a difficult time with it too. It's easier to show you so I'll be using a gallery of pictures to supplement my writing on the subject.
I guess my first inclination as to why it rises to the top of my favorite places is because as I sit here writing this, I find my mind shuffling through the things I've experienced and the images that I've made there, scheming when I'll be able to return for my next adventure which will hopefully be to go climb some of those beautiful red cliffs. Beyond just the visceral feelings I have, it's spiritual to me. I think places that matter have a spiritual, commanding affect on me. They demand my attention. They demand that I be in the moment, experiencing them in a very present way.
Something else that makes Zion so impactful to me is that I truly feel a sense of place when I'm there. For some reason it's comforting for me to be there. I feel like I know who I am when I'm there; I feel like I'm "supposed" to be there. I'm very connected to it. I've probably been there a dozen times in my life, although I've never lived very close to it. It's a destination I long to see time and time again, like it's calling me back constantly.
The first time I went there was with my parents on a road trip like the many others we took when my brother and I were young. I still vividly remember swimming in the river and seeing the red sandstone cliffs for the first time. We camped in the Watchman Campground in our pop tent and did some hiking on the easy trails.
After that, it was many years before I had the chance to go back. When my first son was born, we waited until he was a whole 12 weeks old before taking him there. I put him in my kid-carrier backpack and hiked the Narrows, a popular hiking spot where the water comes out of the upper canyon into the more heavily travelled valley floor, for the first time taking him up just about as far as I could go. It really opened up a whole new world for me seeing the canyon getting both narrower and taller at the same time. It showed just how influential the water is over time and how the rocks were so beautifully worn away by its powerful forces. It's ironic to think of how much of an affect something so soft can have on something so hard. But those cliffs are proof that time is long and our experiences on this planet are short. I know this isn't an original thought but it's a fun thing to ponder.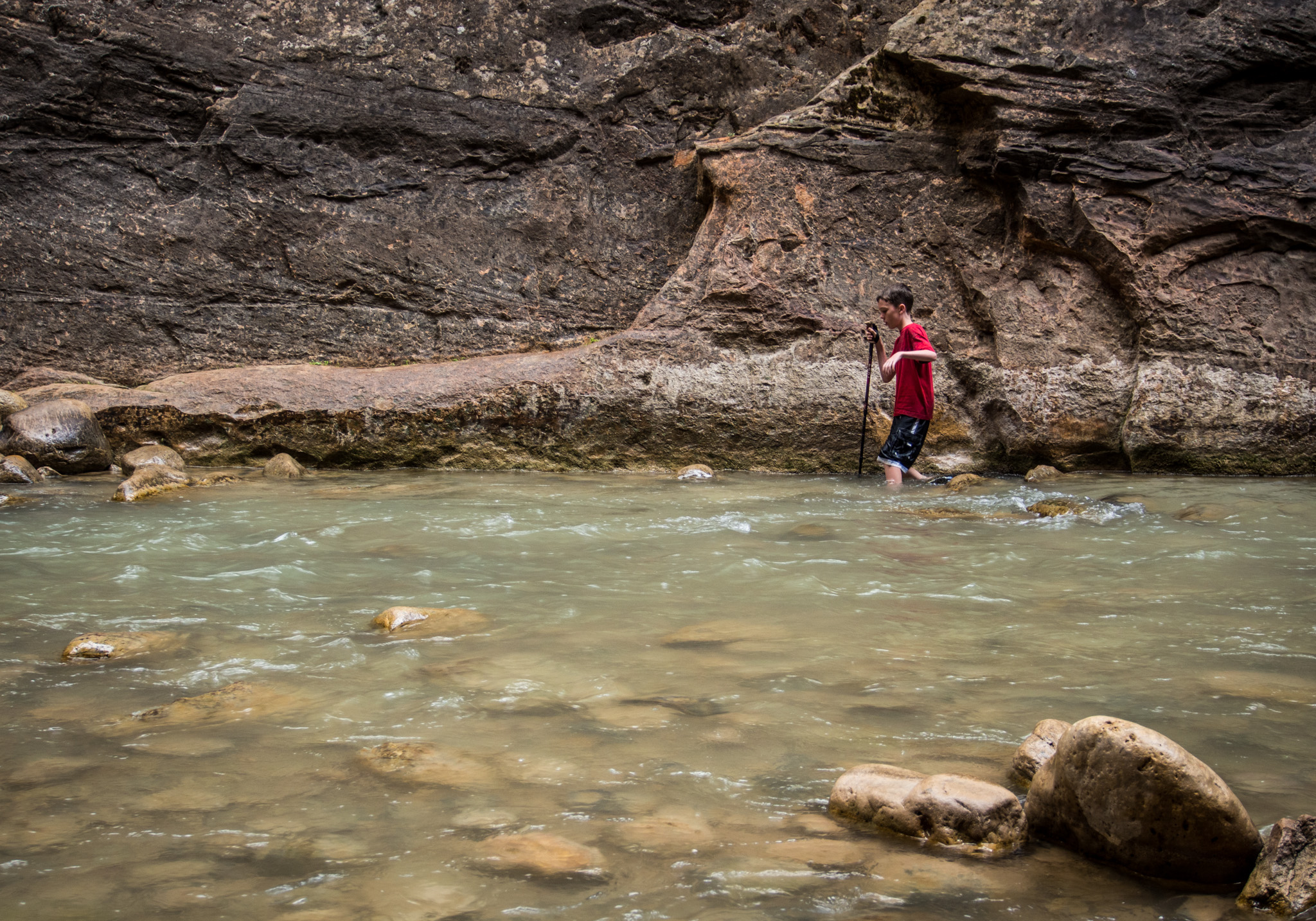 That hike got me hooked and I've gone back many times to repeat it with my family. Experiencing it with them has been a highlight of my life. My oldest boy is now 13 years old and he's done it with me three times so far. I'm sure we'll do it again soon.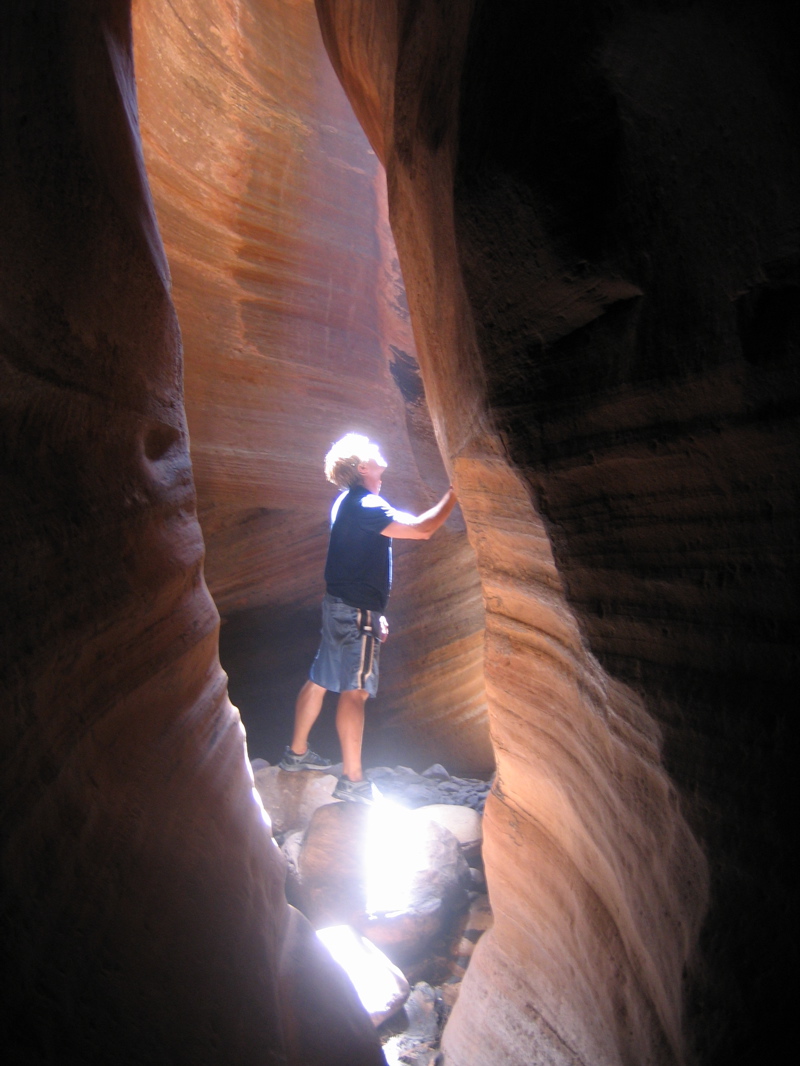 After I graduated college I had the opportunity to go do some slot canyons there with some friends. The activity is called canyoneering, and since then it has become very popular. The thing that really stood out to me about canyoneering in Zion is that it got me to places that "normal people" never got to experience. I was able to see canyons and sights that most people don't even know exist, and that had a powerful affect on me. I got to be like an early explorer navigating uncharted territory (to me it was, at least), and it had always been a dream of mine.
It was also pretty funny when we came out of the canyons in full wetsuits in 120º weather like aliens invading the park tour shuttle bus. We got some odd looks and interesting questions. The reason we wear full wetsuits is because the canyons are so deep and narrow that the sun is never able to warm the water in them. The water stays somewhere in the 40º-50º range and you'll freeze your bits off if you don't.
In 2012 my wife and I both thought it would be the best place to get married, and we weren't disappointed we did it there. It was just two and a half years ago that we were wed right next to the Virgin River where the Narrows dumps out of the canyon into the valley at an area called the Temple of Sinawava. It was an absolutely perfect setting. Our wedding reception then consisted of a breakfast at the Zion Lodge and the rest of the day was spent hiking the Narrows with our family members and close friends.
When I designed the wedding invitation, I wanted to mark the spot on the map where we were getting married. It was a very cool project that I'm really proud of. Here's what the letterpress invitation looks like, and a I've included a few photos from the wedding: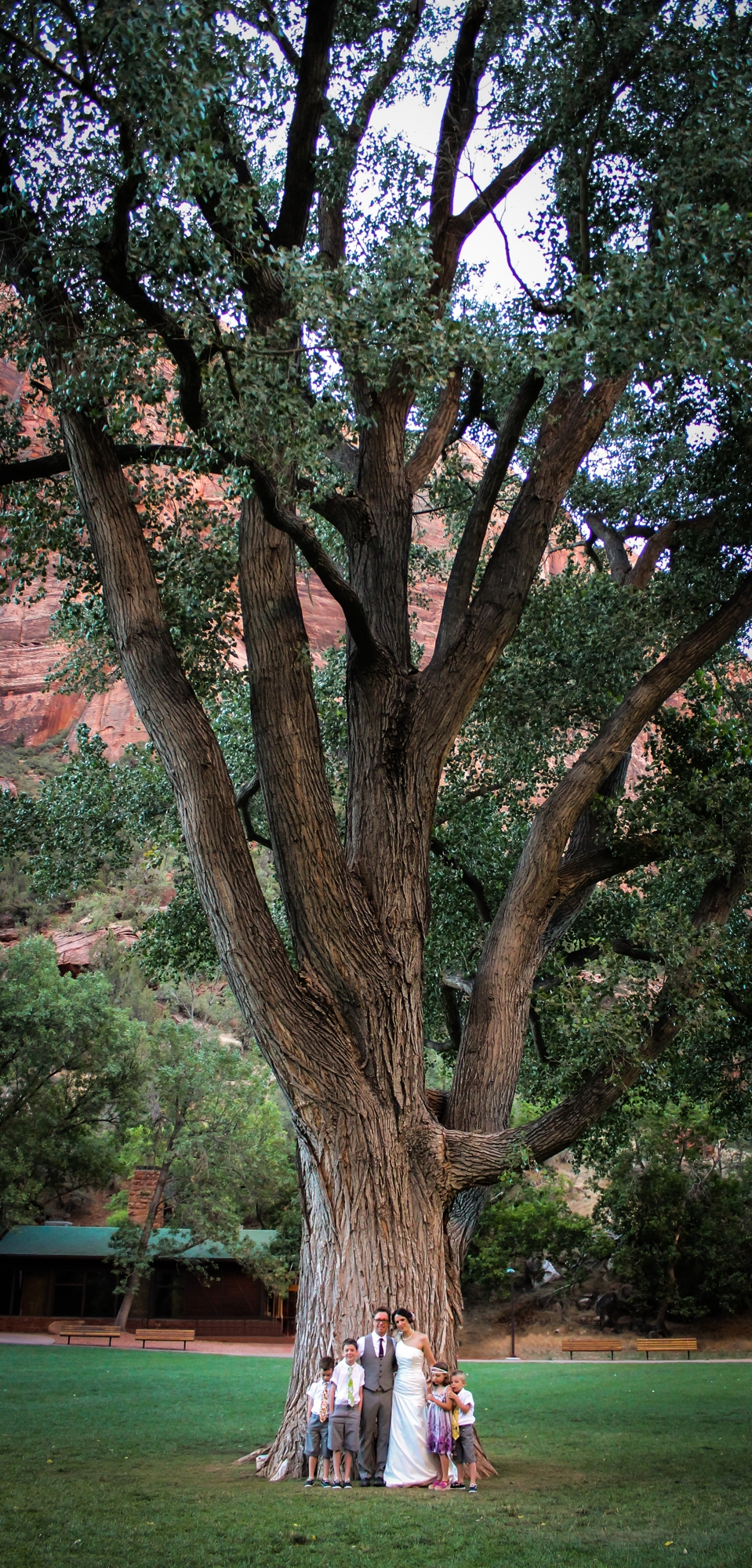 My last trip to Zion was in October, once again on a canyoneering adventure. My friends and I drove about an hour up and out of the park along a dirt road where we dropped into a canyon that once again emptied out into the Narrows about 10 miles down. It's called Birch Hollow and is one of the most beautiful places I've ever seen. It most definitely was not all fun and games that day, as it was one of the most painful things I've ever endured. The day started out beautifully but by about midway through, my knees were killing me and I lost both big toenails on that hike (TMI, sorry). But I'm happy to say I made it through the struggle that the day presented and I have all of these beautiful pictures below to share with you so you can see what it's like to experience such an amazing place. Just click the first image to get started.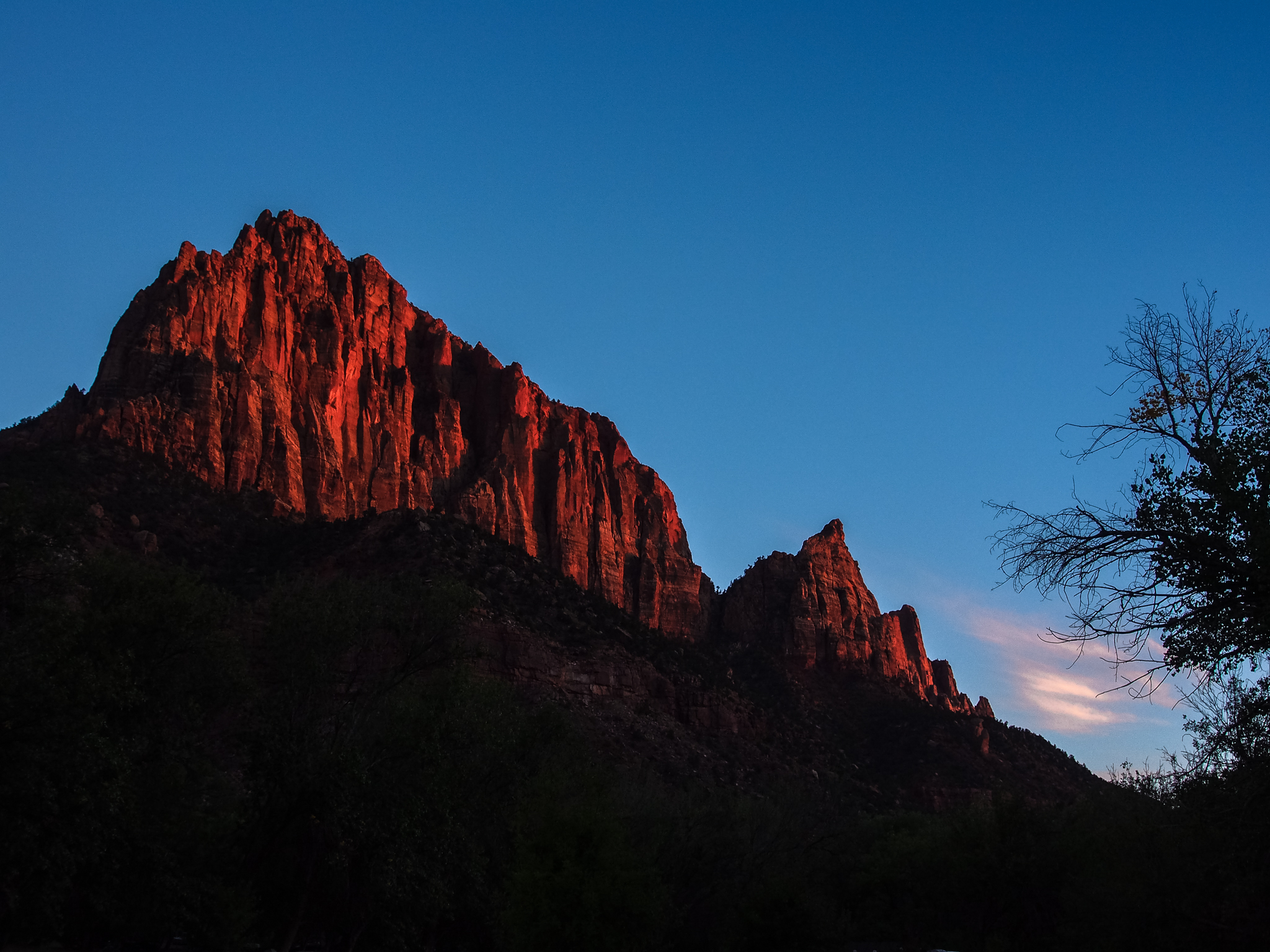 So there you have it. Zion is my favorite place, and I hope this post gives you a glimpse as to why.
Check out my Archi-friends' "Favorite Place" blog posts too:
Jonathan Brown - Proto-Architecture
@mondo_tiki_man
Favorite Place Tara Imani - Tara Imani Designs, LLC
@Parthenon1
Favorite Place - Architalks 8 Jeremiah Russell, AIA - ROGUE Architecture
@rogue_architect
favorite place: #architalks 5th edition Cormac Phalen
@archy_type
Baltimore Enoch Sears - Business of Architecture
@businessofarch
Where Do You Like To Go When You Aren't Working? Matthew Stanfield - FiELD9: architecture
@FiELD9arch
Ruby Slippers Marica McKeel - Studio MM
@ArchitectMM
Do You Have a Favorite Place? Lee Calisti, AIA - Think Architect
@LeeCalisti
favorite place Lora Teagarden - L² Design, LLC
@L2DesignLLC
ArchiTalks meets #ThisOldHouse Andrew Hawkins, AIA - Hawkins Architecture, Inc.
@hawkinsarch
My Favorite Place in the Wild Jes Stafford - Modus Operandi Design
@modarchitect
Making Space and the Favorite Place Michele Grace Hottel - Michele Grace Hottel, Architect
@mghottel
Favorite Place Meghana Joshi - IRA Consultants, LLC
@MeghanaIRA
Oh, The Places You'll Go! Michael Riscica - Young Architect
@YoungArchitxPDX
MIT Chapel - My Favorite Place Stephen Ramos - BUILDINGS ARE COOL
@sramos_BAC
Cinque Terre Brian Paletz - The Emerging Architect
@bpaletz
Favorite Place(s) Eric Wittman - intern[life]
@rico_w
my [first] favorite place
---
All photos on this page © Evan Troxel – All Rights Reserved