📘 A.R.E. Hacks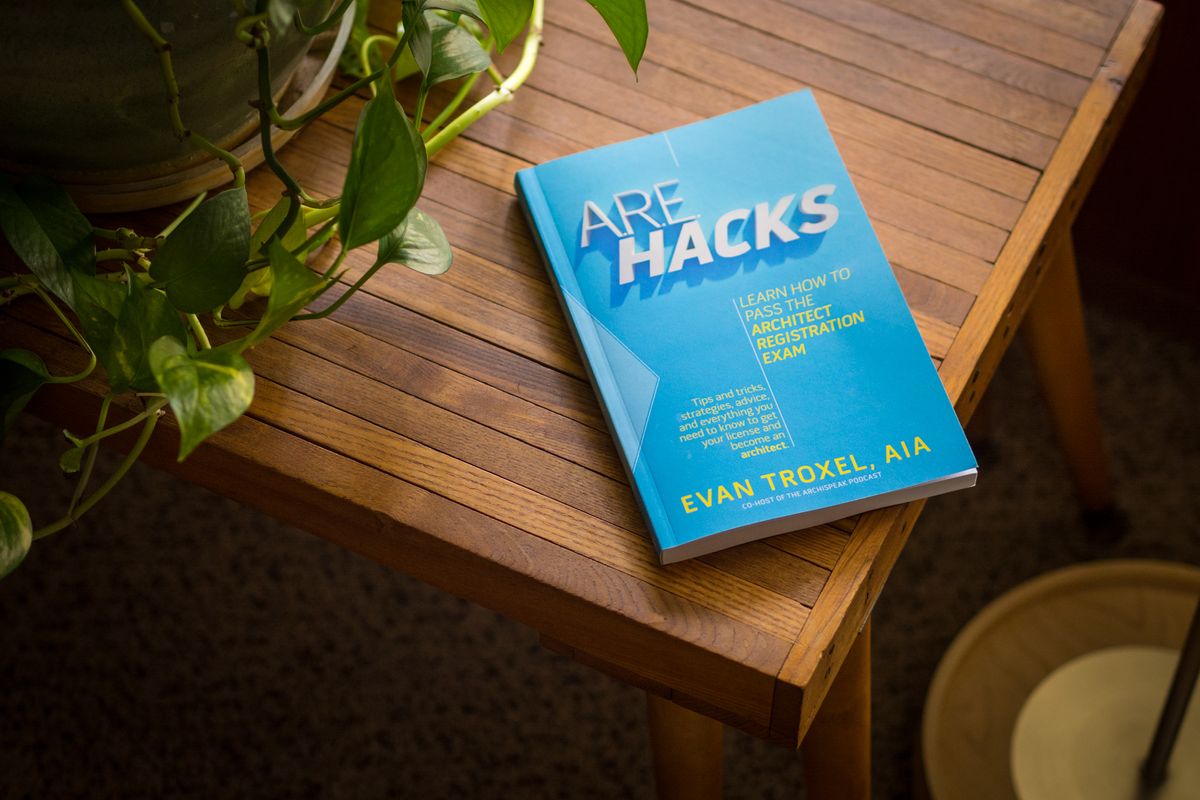 Learn How To Pass The Architect Registration Exam
You've already done the hard part—you got your degree in architecture. Now it's time to get your license so you can level-up in your career by becoming an architect.
If you're anything like I was, your excuses are holding you back. You have a busy life, you're working long hours building your career, and on top of that you might even have a family. Everything is competing for your time and attention and you don't have any more to give. How do you dedicate yourself to something that takes so much time and effort to accomplish? The answer isn't simply more coffee.
In ARE Hacks, I share how to create the space in your life that is needed to finish what you started. I decided to silence the voices in my head that kept nagging me to get licensed fifteen years after graduating. In every way imaginable, I had a busy and full life. The good news is that I did it, and now I'm sharing everything you need to know to get your license—my tips and tricks, my strategies, and all the things people don't talk about that are involved with passing the Architect Registration Exam.
We need more great architects. Use this guide to create a master plan for success, get your license, and become one. Choose yourself first, then help change the world.
---
---
Not sure if this book is for you? Read the reviews at the bottom of this page and on Amazon to see what others are saying about it and how it helped them.
---
Images of the book
---
Reviews & Comments
Here's what people are saying about ARE Hacks:
I love connecting with readers and hearing about their success passing ARE's. Here's another example of a candidate getting things done with the help of ARE Hacks. She passed all the exams in 6 weeks! Awesome!
---
Here's an Instagram image one excited candidate recently posted. He got back on the bandwagon after an 8+ month period of stagnation after reading ARE Hacks and passed his Schematic Design exam!
---
Hi Evan, (...) I just finished the book, and wanted to send a quick note to thank you for writing it. It was exactly the kind of book I've been searching for, and answered so many questions I had. Thank you for putting in the time and effort to produce such a useful resource!

—Jonathan McConnell
---
I love this book. Reading it for a second time already on my Kindle - and I took and passed the exam 30 years ago. It's THAT good!

—Randy Deutsch AIA
---
I can believe this advice because it's personal, it's been tested and it's detailed, specific and fool-proof. He'll prove to you that you can and will make time for it. This may be the plan personally taken by the author, but it's broken down into a step-by-step process that can and should be followed all the way to that magic license.
...
This is THE book for anyone ready to take the Architectural Registration Exam. It was a great read for me, someone who is over twenty years out from taking and passing the exam, because not only was I able to reminisce about a very challenging time in my professional life, I am now able to have empathy for those taking the exam today.

—Lee Calisti AIA
Read the full review here. There's much more.
---
Just finished reading ARE Hacks. Every intern should read this book! Thank you for writing it!

—Gentry Griffin
---
As I read, Evan shared his 15 year circuitous journey to become a licensed architect, and unlike other books written about what to study, A.R.E. Hacks shares more about how to study, where to study and when to study. It's filled with practical advice, as well as inspirational perscriptions for how to make big things happen. It's a book about how to achieve your life goals, when the realities of life (work, money, social life, parenthood, etc.) may be fighting you every step of the way.

Through his own personal stories, Evan shares tips and strategies on how to establish habits, how to "find the time" and what to sacrifice in order to accomplish the massive life goal of every want-to-be architect. With step-by-step action plans and a full assortment of online and offline resources, Evan's straight forward and honest, no "sugar coated" approach will give you the courage, tools and proper mindset to make your dream of becoming a licensed architect a reality.

—Mark LePage AIA
---
Buy this book and Get it DONE! Great perspective on the ARE from Evan Troxel, long time practitioner, parent and self proclaimed ARE exam procrastinator. This book is different from the rest as it comes from a professional architect who is also a parent and has many other interests/passions (Archispeak Podcast, rock climbing, etc.).

How do you get it all done? Troxel's ARE Hacks offers time saving study tips coming from a common perspective of the busy modern design professional. Also great general advice on ways to self-motivate and focus on the goal at hand.

Get licensed, faster.

—Rosa Sheng AIA
---
Evan - a newly licensed architect - delivers a hopeful, inspiring message with conviction having just conquered this professional milestone himself. The book is equal parts personal narrative and study guide and reminds us that passing the ARE is about far more than memorizing rote factual knowledge but rather - importantly - mustering the discipline to relentlessly execute on a clearly outlined series of goals.

The guide addresses the concerns of the whole student from mindset to essential study tools, apps, and a wellspring of resources offered at every resolution from the macro (what tests to take first) down to the micro (what to expect inside the testing center).

ARE Hacks is essential reading for soon-to-be-architects struggling to find the time and will to complete the steps toward professional licensure.

—Eric Reinholdt
---
A guidebook for passing the ARE's like no other. Whether you are a recent grad fresh off from completing your IDP or a seasoned professional that has used every excuse in the book to avoid taking and are now "finally" ready to take the ARE's, ARE Hacks is the book is for you.

Evan walks you through the "why's". Why you need to "choose yourself". Why you need to recognize that the excuses are only a roadblock to getting your license and why you even need your license. ARE Hacks is chock full of information on what, when and how to study. Tips for success on the test and even tips on how to deal with and rebound from a failed test, which believe me can derail your momentum.

So if you are taking the Architecture Licensing Exams and are not sure where to begin or simply need to hear a bit of sage advice from someone who has been there and knows exactly what you are going through then look no further than ARE Hacks.

—Cormac Phalen, AIA
---
Evan, I pre- purchased your book last night. And it was ready when I sat down this morning to study. I purchased your book simply because I failed SS and I am in the process of getting ready to take it again. I was just looking for a different perceptive on these (insert any number of descriptive adjectives) exams. I only have SS and BDCS left. What really caught my attention was how you changed your study tactics after failing an exam 2x. YOU NAILED IT ON THE HEAD WITH EVERYTHING YOU SAID. I am pretty much in the same boat as you with family, side jobs,music and all the time commitments needed for LIFE!!!!!!!!!!!!!!!!!!!!!!!!!!!!!
Thanks for the affirmation that what I was think and what I am doing is going in the right direction. Only 2 exam left and then I get my Life back. Please keep up the kick ass work.

—Danny D. Clark