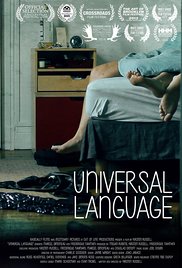 In 2014 I had the opportunity to collaborate on a design project that was something out of the ordinary, and I recently went looking to see if I could find it online. Youtube to the rescue!
Working with my friend and colleague Mark Schoeman, we were given full leeway to design and produce English subtitles for a short film where the actors speak French. You might think that there's no design opportunities in subtitles; they're pretty boring, right? But we came up with what I like to think is a creative approach. Our subtitles really add to the film, help tell the story in a more intimate way, and set it apart. If you have the chance to see it, it's a beautiful film that's worth your time.
Anyway I just thought it would be fun to put this up on my blog. It was interesting work, especially for a couple of architects, and at the same time difficult (working in another language, and the sheer amount of subtitle work that had to be done). In the end we had to do it twice—once in English for the North American release and then again in French for the release in France.
The film went on the festival circuit and won five awards. You can learn more on its IMDB page.
Here's the trailer that gives a glimpse of the story and what we did:
Universal Language