Leadership
086: 'Here to Do the Hard Thing', with Robert Yuen
A conversation with Robert Yuen.
Special guest Robert Yuen of Monograph joins the podcast to talk about wide-ranging topics including leadership in the profession and how it's often mistakenly designated by seniority or title, how to protect firm culture, and how Monograph is designing productivity apps for architects that focus on the experience and are as frictionless as possible. We also touch on Monograph's 'Section Cut' conference and ongoing podcast and webinar series, their willingness to create and curate a Practice Operations (#PracticeOps) resource library for the profession, and so much more.
Please rate ⭐⭐⭐⭐⭐ and review TRXL podcast on Apple Podcasts (or wherever you listen) and don't forget to subscribe and share this episode if you enjoyed it!
Links
Connect with Evan
Sponsors
Start implementing powerful systems for the profitability you need and the freedom you want. Join Douglas Tieger, FAIA for the next Designing Your Business Masterclass, brought to you by BQE CORE. Every live masterclass session is free and includes AIA continuing education credit. Register now at bqe.com/masterclass.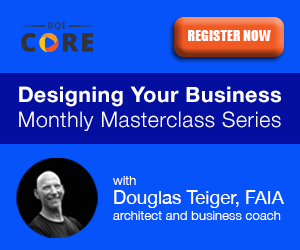 Content is more than Revit families. If it's digital, AVAIL can handle it. Learn more today at https://getavail.com and future-proof your firm's technology investment.