Firm Culture
083: 'The First Slap in the Face', with Paul Petrunia
A conversation with Paul Petrunia.
Special guest Paul Petrunia of Archinect joins the podcast to talk about the so-called early days of the internet and how Archinect began coinciding with Paul's architectural education at SCI-Arc. But the real reason for talking with Paul was to dig into why Archinect was originally started and how the community has evolved over the years—especially in the larger landscape of social media, podcasting, and blogging.
We also discuss the role of an entity like Archinect having and expressing their values on the internet as guideposts for a community, the idea of YourName versus pseudonyms on platforms in regards to expressing one's thoughts and cancel culture, the civility or lack thereof in conversations online today, the different ways in which people communicate online, the underpinnings of the counterculture at SCI-Arc and Archinect, the effects of social media on one's mental health, and so much more.
Please rate ⭐⭐⭐⭐⭐ and review TRXL podcast on Apple Podcasts (or wherever you listen) and don't forget to subscribe and share this episode if you enjoyed it!
Links
Connect with Evan
Sponsors
Start implementing powerful systems for the profitability you need and the freedom you want. Join Douglas Tieger, FAIA for the next Designing Your Business Masterclass, brought to you by BQE CORE. Every live masterclass session is free and includes AIA continuing education credit. Register now at bqe.com/masterclass.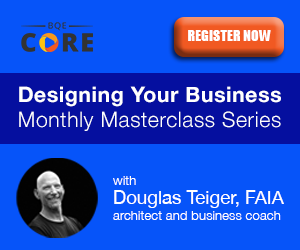 Content is more than Revit families. If it's digital, AVAIL can handle it. Learn more today at https://getavail.com and future-proof your firm's technology investment.